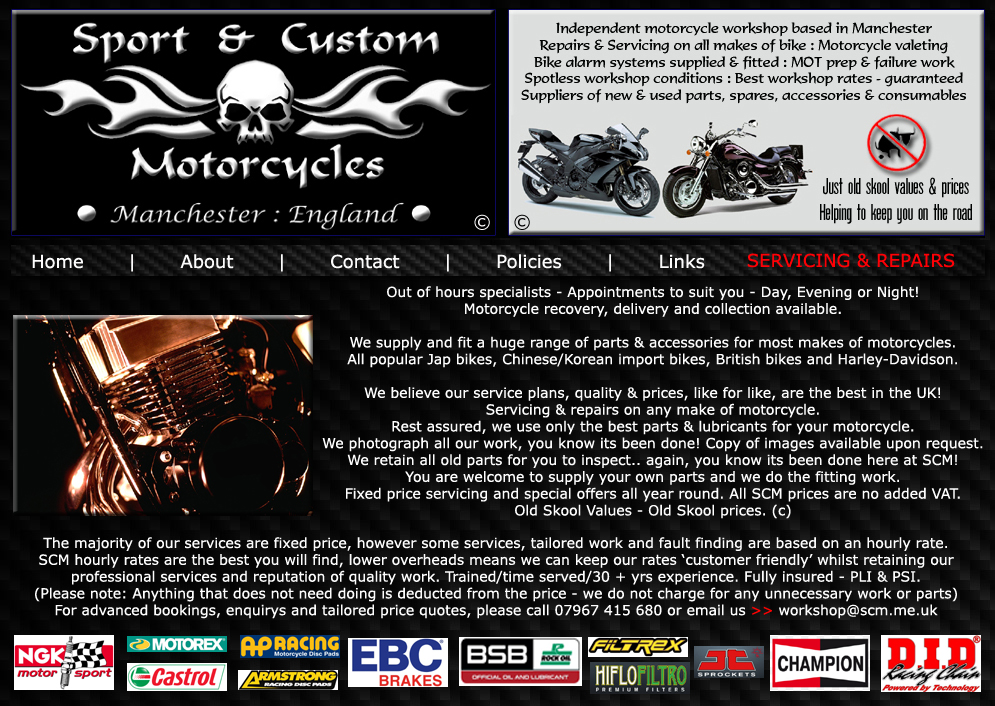 All custom created content, including Design : Text : Layout : Artwork : Flyers : Offers : Page Headers are © Copyright: Sport & Custom motorcycles.
PLEASE NOTE:
ALL OUR SERVICE PLANS INCLUDE - ALL WORKSHOP CONSUMABLES.
LUBRICANTS, CORRECT QUALITY GREASE'S, CLEANING PRODUCTS, HYDRAULIC FLUIDS, OILS,
BRAKE CLEANING FLUIDS, NEW SPLIT PINS ETC WHERE REQUIRED & WASTE OIL DISPOSAL.
WE DO NOT ADD 'SUNDRY' ITEMS TO THE END OF YOUR BILL.
Payment options: Cash. Transfer. Card payment.

__________________________________________________________________




__________________________________________________________________




__________________________________________________________________




__________________________________________________________________



Please Note: Ducati / Aprilia / MV / KTM - Contact us regarding dealer/book/mileage services
__________________________________________________________________

Please Note: Ducati / Aprilia / MV / KTM - Contact us regarding dealer/book/mileage services
__________________________________________________________________


__________________________________________________________________


__________________________________________________________________


__________________________________________________________________


__________________________________________________________________
For advanced bookings, requirements and tailored price quotes, please call / text / whatsapp: 07967 415 680 or email us >> workshop@scm.me.uk
__________________________________________________________________